Back in the day, cooking used to be a hard task in the kitchen. Lack of technology made work harder than it should be. But over the past few years, we have seen smart kitchen gadgets being released with the help of creative minds. These appliances help us make our work efficient.
But some smart appliances are a must-have in our kitchens, which will be discussed here.
Best Smart Kitchen Appliances Reviewed
Cosori Smart Air Fryer Cs158-Af:
The COSORI VeSync Pro Smart 5.8-Quart Air Fryer is the first smart kitchen appliance with us for review. The air fryer is controlled by 3 methods. You can either command it from its display, remotely using the VeSync app, or using voice commands with home assistants.
The smart air fryer has a 5.8 qt square basket. It can cook a 5-pound rotisserie chicken or for up to 4 people at once. To assist in cooking, the VeSync app comes with over 100 recipes with step-by-step recipes. Here you can mark your favorite recipes, or create your custom recipes.
Pros:
Has a large cooking basket.
The basket is non-stick and easier to clean.
No noise while cooking.
Cons:
The app requires unnecessary permissions.
If you like to see your food cooking, then the AF6000 Smart Wifi Air Fryer is made for you. The smart air fryer cooks food with 85% less oil compared to deep-fried food. You can fulfill your cravings without the guilt. The cooking time is reduced by up to 30% thanks to its advanced carbon fiber heating and 360°air flow technology.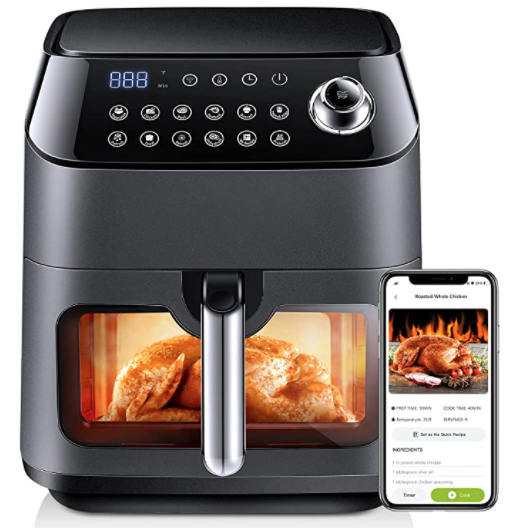 The app provides a ton of recipes so that everyone can cook. When choosing a recipe, the air fryer will automatically sync with temperature and time. Other than the app, the air fryer is controlled using a voice assistant or its built-in control panel.
Pros:
Big enough for a meal for 3 to 4 people.
360°air flow technology.
The viewing window is a handy feature for chefs.
Cons:
The only smart features it has are "turn off" and "turn on".
With a large 5.5L basket, the Air Fryer can cook a larger capacity of food. Its cooking operation is controlled using the ProscenicHome app. The app has features such as scheduling the cooking, customizing your recipes, or adjusting and monitoring the cooking process.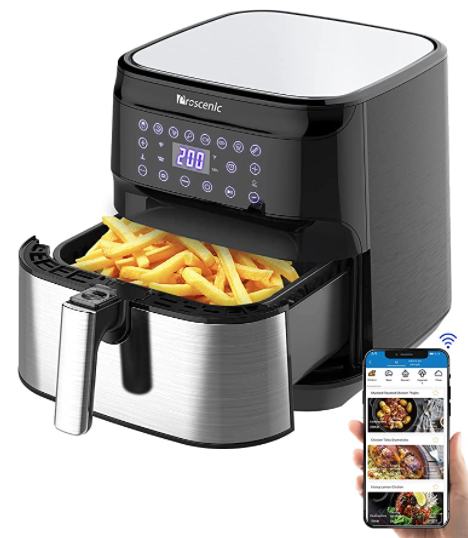 The app comes with tons of recipes for you to choose from. Other than that, the air fryer also supports three features, Schedule, menu, and keep warm. Using these, you can revolutionize the cooking process.
The basket for this air fryer is non-stick and dishwasher safe. It's easy to clean and has detachable parts.
Pros:
Fast cooking technology used.
Easy to clean.
Remarkable smart functions.
Cons:
You ever face situations where you need to cook at home, but the problem is that you're in your office? Many dishes require slow cookers. And with this problem, it becomes impossible to cook your favorite dishes. That's why Crock-Pot came up with a smart slow cooker.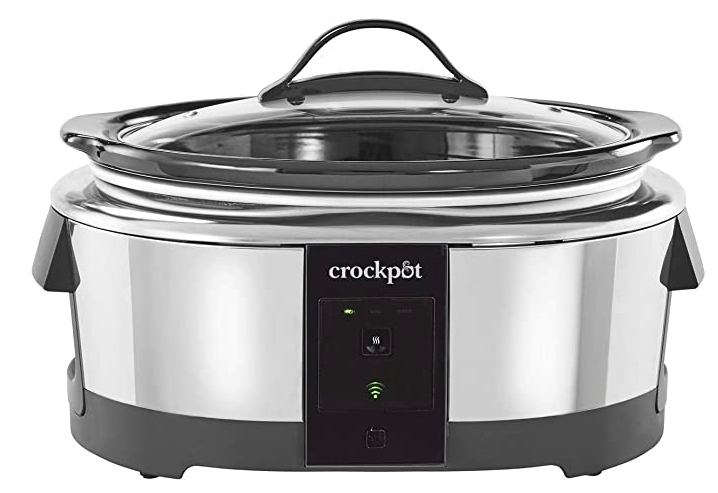 This smart slow cooker works with Alexa and its app. You can preset from 30 minutes to 20 hours using Alexa. With the app or Alexa, you can remotely set its temperature to your requirement. It can cook 6 qt of food that's enough for over 7 people.
Pros:
A large cooking pot.
Easy to clean.
The lid has small holes to allow steam to escape.
Cons:
Has a cheap build quality.
With over 300 recipes available on the CHEF iQ app, the CHEF iQ Smart Cooker makes cooking easy for everyone. To help with these recipes, the smart cooker comes with a built-in scale. 4 integrated smart sensors inside the cooker measure the ingredients. But that's not all; this smart cooker will tell you how much liquid is needed to cook
The smart cooker is updated using its CHEF iQ app. This app also provides tons of features. For example, the cooker has a steam rack and steam basket, making it a true smart cooker for all meals.
Pros:
Built-in scale to measure ingredients.
Over 100 recipes with how-to videos.
Automatic pressure release.
Cons:
Sometimes, the cooker receives broken updates.
Want one of the best rice cookers available in the market, look no further. Because the TLOG DIgital Small Rice Cooker is designed for cooking rice and has perfected it. Thanks to its built-in smart temperature probe and smart cooking algorithm, it perfectly cooks rice of all types.
The cooker is programmed with 6 cooking presets. These are white rice, mixed grains, oatmeals, porridge, pasta, and even cake. It is perfect for busy bees as you can preset its timer and get hot meals when you get home. It can cook up to 8 rice cups at once.
Pros:
Preset timer.
Easy to use and clean.
Maintain an ideal temperature after cooking it.
Cons:
Fit for smaller families.
Bear Hmj-A50b1 Dough Maker:
With cookers and air fryers, other appliances are getting smart. One such is the dough maker from Bear. It has a large capacity of 4.5 quarts. This allows kneading 1 to 5 liters of dough at a time. If you love steamed stuffed buns, then this dough maker is for you.
Its ferment dough program is designed to increase your efficiency in other tasks while it does its job. A face-up touch panel controls the smart dough maker.
The dough maker's powerful 200 watts control its rotation.
Pros:
1-year warranty.
Remarkable after-sales customer care.
It is easy to clean.
Cons:
It has either 1 minute or multiple of 5 minutes timer.
Stariver Electric Hot Pot:
The Stariver Electric Hot Pot is a multipurpose hot pot. Whether you want to cook noodles, porridge, dumplings, or eggs, it can cook all. The hot pot is designed to act as a cooking station for people living in small apartments or dorms. In addition, its smaller size makes it perfect for picnic points with utility services.
The 1.8L capacity is suitable to make meals for up to 2 people. Its glass cover makes it easy to see the cooking progress. In addition, its pot is removable, which makes it easier to clean.
Pros:
Perfect for a 1-2 person meal.
Cheaper than the competition.
Effortless to use.
Cons:
Cleaning is a rather tough task.
Ninja Foodi Smart Xl Grill:
Planning to host an indoor party with grilling? Then the Ninja Smart XL Grill is the one to choose. Its XL size allows it to grill up to 6 steaks at once. And the grilling experience will be free from dangerous gases.
The grill can achieve different doneness of the steak. With a press of a button, you can get anywhere from rare to well done. This feature is supported by its smart cook system and Foodi Smart Thermometer.
It acts as an air fryer too. You can roast, bake, broil or dehydrate with this smart grill.
Pros:
It has a large 9×12 inch cooking area.
It maintains the flavor of food.
Perfect for tabletop grilling.
Cons:
Customer service is really bad.
Ninja Foodi Digital Air Fry Oven:
The Ninja Air Fry Oven cooks meals that allow you to consume them guilt-free. But it's not limited to air fry; it can air roast, air broil, bake, dehydrate or keep your food warm. This 1800W Air Fry Oven is easy to store. When flipped up, it takes 50% less space than it would.
The XL size means a 45% larger cooking pan area than other air fry ovens. It can fit up to 9 slices of toast or a 13″ pizza.
It has a precision-controlled temperature. When it is combined with the airflow and heat source, you get optimum cooking performance.
Pros:
Large 13″ x13″ cooking rack.
Provides a variety of cooking features.
It cooks food without the need for any oil or grease.
Cons:
It must be cleaned after every use.
Conclusion
Every person finds the least inconvenient way possible to do work in every aspect of their life. This includes in the kitchen too. Smart kitchen appliances have been a great help to busy people. To fry something without hard work or cook something away from the kitchen, all these things are possible.