Looking for smart cooking appliances and kitchen gadgets for your kitchen? Let us help you in your search. These days, while looking for kitchen appliances, you need to make sure you opt for something that improves your productivity.
There are several smart appliances available in the market today. Our list of the top 5 best small smart kitchen gadgets will help you narrow down your search.
The Kizen digital waterproof alarmed meat thermometer is a great smart appliance for your kitchen. This has a very modern design, is waterproof. So, it can be washed under running water.
It has an auto shut-off, an alarm and is ultra-fast. It has been advertised to give a reading in 2-4 seconds, which is essential for most skilled chefs.
The Kizen digital meat thermometer goes for around $ 1795 on Amazon and has a four-star rating. So, you most definitely cannot go wrong with this.
With a measuring range of -50'C -250'C, this measuring product has a light-up display screen and comes with 2 batteries in the pack.
The design is pretty convenient and comes with an inbuilt magnet and a hoop. So, you can either stick it to your fridge or hang it nearby for easy access.
Not only does this have amazing specifications, but it also has multipurpose use. You can use it for all kinds of beverages, deep-frying, baking, grilling, and so much more.
Moreover, there are no limitations with the Kizen digital meat thermometer, especially due to its waterproof design. This is definitely worth your investment.
Pros:
Multipurpose use
Waterproof design
Magnetic body
Convenient mechanism
Luminous screen
Cons:
Expensive
Can take up to 1 minute to provide readings at times
The Ember smart temperature control mug is a unique product that tops our must-have list for smart cooking appliances. The first and the strangest thing worth mentioning here is that it is a "smart" mug.
So, this can be connected to your phone. The first thing you need to do is configure its firmware, which might be annoying to the boomer in you. But hear me out, you will still love the Ember Smart Mug.
The way this mug works is it has the battery in its base and an element and a thermometer. So, all you need to do is tell your cup what temperature you want your beverage to be, bringing it to your desired temperature.
It will notify you once your desired temperature is reached; not only that, It will hold it to that temperature for you too.
This incredibly smart mug will have you mocked by many people. But if you are someone who gets easily distracted doing your office work at your table, this is worth spending that money on.
No matter how much busy you are at your work or how much you have to go around and check on things, your Ember smart mug will be there sitting on your desk keeping your beverage warm.
Pros:
Long-lasting battery
App-controlled
Dishwasher safe
maintains the temperature of your beverage
Cons:
Very expensive
Slows down with the number of uses
Ceramic flaking
No matter what anyone says, the Perfect Drink Pro is a must-have for your kitchen. All You need to do is pour till you hear the ding.
The perfect drink pro connects to your smartphones, making life super easy for you. Once connected to the app, you will access a massive collection of 400 plus drink recipes.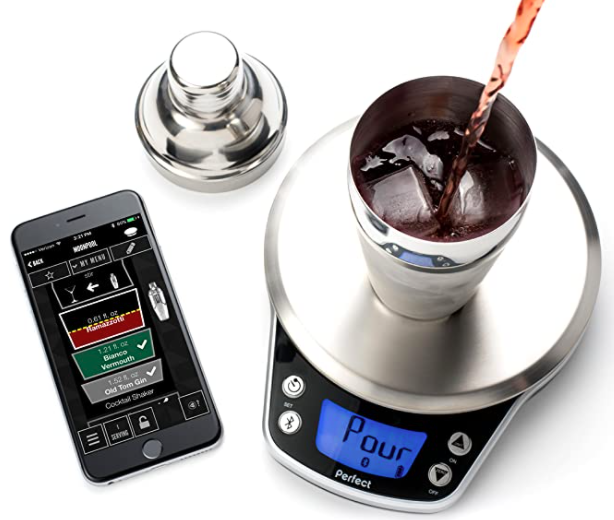 The process is pretty simple. Start by placing the glass or your shaker on the Perfect Drink Pro scale. You will see a virtual glass made on your app that will coordinate with your actual shaker put on the scale.
Next, select a recipe, start pouring in the shaker till the cup on your screen fills up, and you hear a ding! Once you get the hang of it, life becomes super easy.
This also makes drink mixing convenient because you don't have to worry about mixing the correct amounts. Your app measures and tells everything to you on its own, making your life hassle-free.
Pros:
Measures everything for you
Smart Alerts on your phone
Access to 400 plus recipes
Stainless steel
Cons:
Could have more features for the amount being charged
Revolution Cooking R 180 Touch Screen Toaster
Looking for smart cooking appliances to make your life easy in the kitchen? The Revolution touch screen toaster is here to save the day.
Many of you have coffee makers, refrigerators, and even ovens with touchscreens and find it super convenient.
So, why not have a smart toaster with a touchscreen? Because with this touch screen display, the revolution cooking R 180 touch screen smart toaster gives you five different food settings, three toasting modes, and seven browning levels.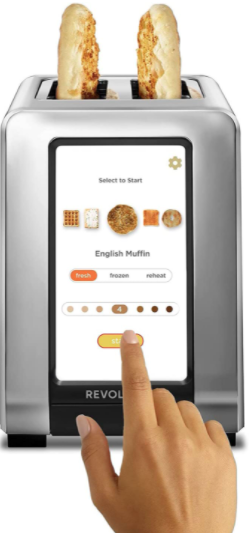 Through these fantastic modes, you can customize and control your toasting levels all with the touch of a finger. Isn't that amazing?
Here is how this works. Let's say you have a waffle. It will ask you if that waffle is fresh, frozen, or are you just re-heating it? So, you select accordingly. Next, it asks you to choose your brown-ness level.
Once you select your desired settings, pop in those waffles. They will automatically sink in and will toast to your selected toasting level.
Not all toasters are created equal; as the name suggests, the revolution toaster will change the way you think about your toast. It is known for three things: its toasting speed, the unique install-glow technology, and its intelligence.
Pros:
Controlled toasting options
Insta glow technology
Quick results
Sleek design
Easy, one-touch system
Cons
Weak construction
Expensive to repair
The Breville Smart Oven Air Fryer is a must-have if you are looking for a smart air fryer for your kitchen.
The Breville air fryer is loaded with multiple features and does it all for you! It comes with a 13-inch nonstick pizza pan, two stainless steel wired racks, a 9×13 boiling rack, a 9×13 roasting enamel rack, and last but not least, the air fry dehydrating basket.
With the Breville Smart Oven Air Fryer, you have your basic heating and browning settings. Settings that you are familiar and comfortable with. With the toast setting, you can choose if you want a light or a dark toasted toast.
The bagel settings are similar; you can choose the darkness and the number of bagels on the control panel.
Now you will notice that with the broil, bake, and roast settings, you can change the temperature and time, but you can also add convection and super convection.
One of the things that you end up appreciating about this oven is that this has a warm setting.
Although you will not find this in regular ovens, with the smart oven, you can just set it to warm, and it will maintain your food's temperature without overheating it.
Pros:
Multiple uses
Customizable settings
Convection and super convection options
Dehydrating feature
Slow cooker
Cons:
Bad customer service
Glass can shatter
Conclusion
These options are not only smart but convenient too. You can start cooking smarter and better instead of harder with these smart appliances in your kitchen.