Breakfast is the most important and yummiest meal of the day. You have a wide variety of foods to eat in the morning. And, with the smart kitchen appliances, the experience can be even better.
However, with today's snowballed market, it can be challenging to choose the right ones. Therefore, it is essential to consider the features of each appliance to make sure it fits your requirements.
Here's a list of the top 10 best smart kitchen appliances for cooking breakfast. 
Best Smart Kitchen Appliances for Cooking Breakfast Reviewed
Revolution Cooking R180 High-Speed 2-Slice Toaster 
A toast is the most common food in breakfast. With the Revolution R180 Toaster, you can do the job faster, 35% more speed than traditional toasters. Plus, you do not have to repeat it for better results.

It is easy to use with a touch screen interface. It notifies you when to clean the bread crumbs. You can adjust the height, so you do not have to use hands or forks to take the toasts out.
The on-screen timer keeps you updated while a chime lets you know it is finished. In addition, it locks in more than 30% more moisture than most other toasters. This way, the toast maintains its taste and crunchiness.
Pros
Excellent Design
UL Tested and Certified
Durable Metal Body
Simple to use
Cons
Coffee is a MUST in the morning. It helps you energize yourself for the day. But, with the Atomi Coffee Maker, you can do much more. It is a modern appliance that connects with your smartphone. So, when the coffee is ready, it sends a quick notification to your phone.
It can be connected with Alexa and Google Assistant devices too. The LED control panel allows you to navigate through settings easily. You can also use it via voice commands and smartphone. 
Depending on your requirement, you can also change brew strength with different modes. It also has a washable filter that can be removed quickly.
Pros
Reusable and Washable
Prepares coffee for the whole family
Made of eco-friendly materials
Impressive design that suits home aesthetics
Cons
Losing Wifi connections can cause inconvenience
Many people drink milk for breakfast. However, preparing it manually can be time-consuming. With Jura Cool Control, you do not have to worry about it. It froths milk in no time.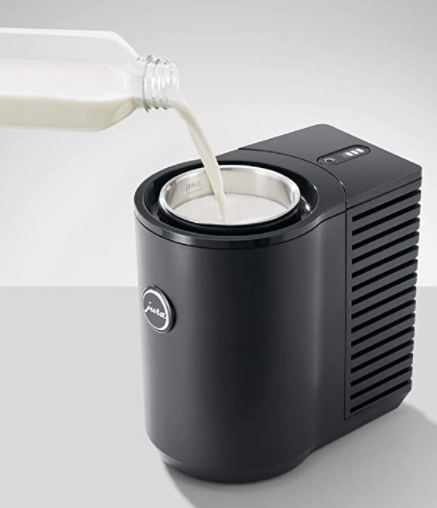 The appliance is equipped with some of the best smart features. For example, it has lights that indicate the level of milk. At the same time, the temperature reader makes sure it remains fresh and delicious.
It is also compatible with dishwashers. This way, it keeps providing you with fresh, tasty, and healthy milk.
Pros
Portable
Has a large capacity
Offers the perfect chilled milk
Cons
Requires frequent cleaning
Kettles were considered old-fashioned until this electric one by Fellow Stagg came into the picture. With the best automatic features, it is one appliance you should own. It can help you prepare water, milk, and coffee, all with simple settings.
It allows you to do these jobs much faster. The 1200 watt quick-heat feature speeds up the brewing process. It looks simple and comes in a variety of colors. Another impressive feature of the design is the pointed spout that helps you pour with precision.
Pros
Way faster than conventional kettles
Has a 60-minute hold option
Excellent design based on a single color
Cons
Not ideal for tea drinkers
If you eat heavy foods for breakfast, then KLARSTEIN Air Fryer is the best option for you. It offers fat-free frying. And that's not it. You can do roasting, streaming as well as BBQ. It works without defrosting or preheating.
It has a 1400-watt air system with proper ventilation. This way, you can get the desired temperature quickly. In addition, the smart air fryer has a CeraPlus non-stick coating. It prevents the food from sticking to the fryer. Thus, you can clean it easily.
Pros
Quick and Easy Functions
Easy to clean
Comes with the essential accessory
Cons
Mobile connectivity is the future, and Master Culinary understands that. Their smart cooker connects with Wifi and works smoothly. It heats the water to an accurate temperature. Therefore, your food is neither overcooked nor undercooked.
It is also used by professional chefs mainly due to its precision. As for its design, it is very portable. The sleek body shows the necessary details on one end. In addition to that, it does not produce noise at all.
Pros
Compact size
Easy to use
Works quietly
FDA Approved
Cons
Wifi Connectivity errors can disturb the temperature
Sharp Compatible with Alexa Smart Countertop Microwave Oven
Microwave opens were a great invention, but they have faded away over the past couple of years. However, the modern ones are breaking the market. The same can be said for Sharp Microwave Oven. 
It is controllable by Alexa, making it one of the first 1.1cu. Ft to have this feature. It is simple to use. If you have Alexa, you can work with voice commands.
It cooks and warms the food at the finest temperature and in no time. There is a separate mode available for preparing popcorns.
Pros
Sleek Design
Durable Stainless-Steel body
Has an excellent capacity
Cons
Hand blenders let you prepare various foods and drinks. However, the manual ones take a lot of time and effort. Considering that, the Muelle Austria Hand blender works with a powerful motor.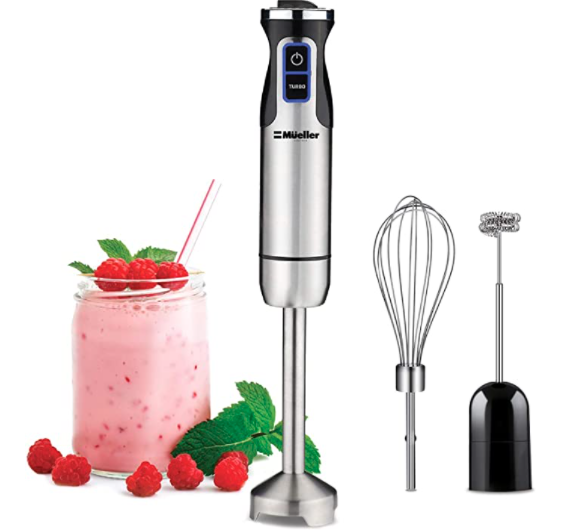 It is made of heavy-duty copper that gives a plus point in its durability. This can be seen as it lasts more than even some of the most popular blenders. Plus, you can use it continuously without any interruptions.
Pros
Comes with a milk frother
Good for soup, smoothies, and milkshakes
Comfortable grips
Cons
Tilting while blending can cause spray
Eggs have always been an integral part of breakfast. With the Dash Rapid Egg Cooker, you can cook different recipes. Whether you want omelets, poached, hard-boiled, or seamed eggs, this appliance got you covered.
The best part is its auto-shut-off feature. It turns off automatically once the recipe has been completed. In addition, it is lightweight and compact. With the capacity of 6 eggs at once, you can cook for your whole family.
Pros
Good capacity
Comes with the necessary accessory
Versatile
Cons
Love eating sandwiches for breakfast? Well, Hamilton Sandwich maker is just the right thing for you. It is fast and quite easy to use. In addition, you can cook various types of sandwiches, including meat, cheese, eggs, etc.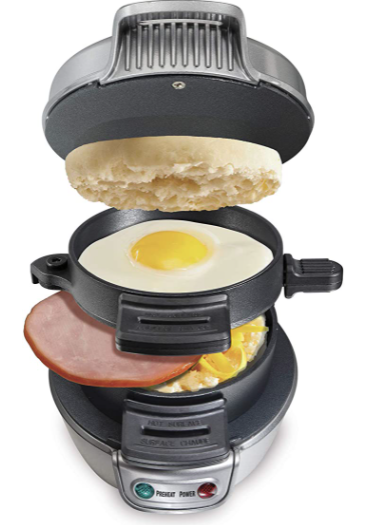 It is an assembled sandwich maker. So, all the parts can be easily removed and cleaned. Plus, you do not need a long manual to get it going.
You can have a delicious sandwich for your breakfast, lunch, or dinner in simple four steps. If you are new to cooking, this smart kitchen technology comes with several recipes.
Pros
Quick and impressive functions
Easy to clean
Good for outdoor activities too
Cons
The base of the bread can get a bit wet
Conclusion:
Since the market is flooded with smart kitchen appliances, you should consider the features, pros, and cons to make the right decision. Most of the ones mentioned above have different functions. Hence, you can have all of them for a quick, tasty, and healthy breakfast.