Smart kitchen appliances can make your life easier. These days, we all lead busy lives and need tools, gadgets, and appliances that can make our lives simpler and easier.
All the while looking fabulous in our beloved kitchens. If you are in the market trying to decide what to get, our top 8 smart appliances list will help you out.
Smart Kitchen Appliances Over $60 Reviewed
The Roomba I & plus Robotic vacuum cleaner from iRobot is what robotic vacuum cleaning should be. It gives you a fully automated experience.
The i7+ is unlike most robotic vacuum cleaners on the market today by having a dustbin into the robotic vacuum's charging base.
It also empties itself and delivers on the promise of an automated vacuum experience. The Roomba i7 plus system has three main parts.
The robotic vacuum cleaner, the clean base, and the primary way you set up and control the system. This you do through the mobile app that controls your vacuum.
Pros:
Fully automated
Cleans itself too
Powerful performance
Pet friendly
Cons:
Erroneous Application often glitches
The iRobot Braava M6 is one of the most advanced moping robots present on the market today. Priced at $ 457.98, the Braava M6 comes loaded with smart features.
The Braava Jet M6 comes highly recommended to those who want top-tier cleaning performance. This also does an amazing job at navigating around the room and cleaning efficiently.
Not only this, you will find that the smart maps as a part of the app are a great addition, as are the zone cleaning and the keep-out zone features within the app. The M6 does a fantastic job of moving around the space and cleaning the room pretty well.
Last but not least, the M6 is highly recommended if you want Wi-Fi connectivity. The Braava Jet M6 connects to your smartphone through the iRobot app and can be easily controlled.
Pros:
Great at cleaning large floor plans
Usability and set up is incredibly easy
Top –tier cleaning performance
Wi-Fi connectivity
Cons:
The BISSELL Crosswave is a versatile wet and dry vacuum that allows you to vacuum and mop simultaneously. So, how well does it do that? Let's find out.
This is a well-rounded vacuum and could be a good addition to your home. The BISSELL Crosswave is great if you are looking for a versatile wet and dry vacuum.
The Crosswave will vacuum up and dry the debris on hard floor surfaces while also moping the floors. This is also the best choice if you want a deep cleaning.
Although it struggles to some degree on area rugs, it does a great job on hard floor surfaces as a mop and a vacuum.
This is also recommended if you want the option to wash your rugs, and instead of needing multiple devices for different floor types, the Crosswave mops your floors and washes rugs all in one unit.
Pros:
Versatile wet dry vacuum
Excellent for hard surfaces
Perfect for deep cleaning
Area rub washing option
Cons:
Ball bearings are rust-prone
Priced at $129, the Instant Vortex Plus is a seven-in miniature convection oven. Being the smart cook air fryer, it claims to be Air-fry's, broils, roasts dehydrates, rotisseries, bakes, and even toasts your food for you.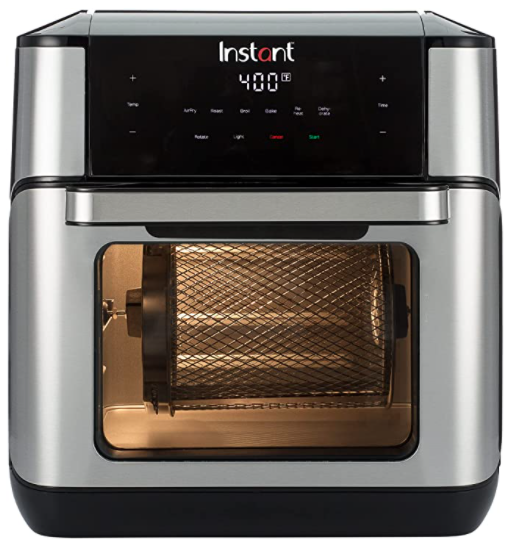 Although this does come with a few concerns, anything that offers a host of functions means the load on the primary power source increases.
This almost always means that if one thing goes down, most of the others will too. The second drawback is that it only heats up to 400 degrees.
However, you will love how this is much more energy-efficient than a full-size oven. The cooking time is also much lower, which helps you save on that electricity.
It has multiple functions at a reasonable price.
So, get your hands on this amazing smart air fryer oven and live a hassle-free life.
Pros:
Multiple functions
Saves energy
Convenient and smooth design
Considerably big for an air fryer
Easy to clean
Cons:
Food is something that brings people together. So, the Smart Cooker is this magical device, a pressure cooker at its heart, but it's the pressure cooker of the future.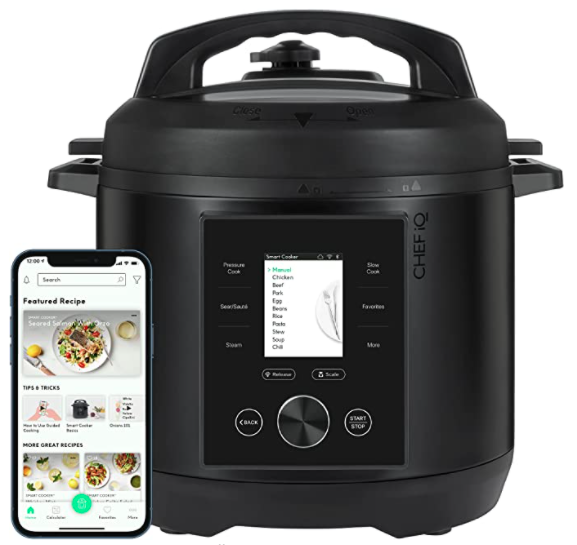 Taking all the benefits of a pressure cooker, which is about trapping all the steam, can create moist and tender dishes in minimum periods.
In terms of pressure release, the CHEF iQ Smart Cooker comes with an automatic pressure release where all the steam will release at the push of a button. This is a multifunctional device that can do so much more than cook. It can bake, it can sear. The options are almost limitless.
Pros:
Built-in scale
Automatic Pressure Release System
Built-in Chef app
Cons:
Cannot be operated unless paired with your phone
The COMFEE multi cooker is a digitally programmable rice cooker with 17 smart programs that help you to make noodles, rice, cook soup, and much more.
Not only does this give you fast and delicious rice every time, but this also has a smart kitchen technology that gives a quick and accurate performance.
COMFEE has developed an intelligent 6 step cooking process that the steam valve that can preserve the steam and heat perfectly to simmer the rice o time.
The 17 digital cooking programs Japanese-style rice cooker easily helps you make your desired recipes easily. Its multipurpose design can replace five or more appliances in your kitchen!
Pros:
Perfect rice every time
Cooking Versatility
High Safety
Huge capacity
Cons:
Keeps food warm only for 12 hours as opposed to its claim of 24 hours
The West Bend 2 Slice breakfast station features an attractive design. It is an innovative machine that prepares fried, poached, hard-boiled, soft-boiled, or scrambled eggs in just four minutes.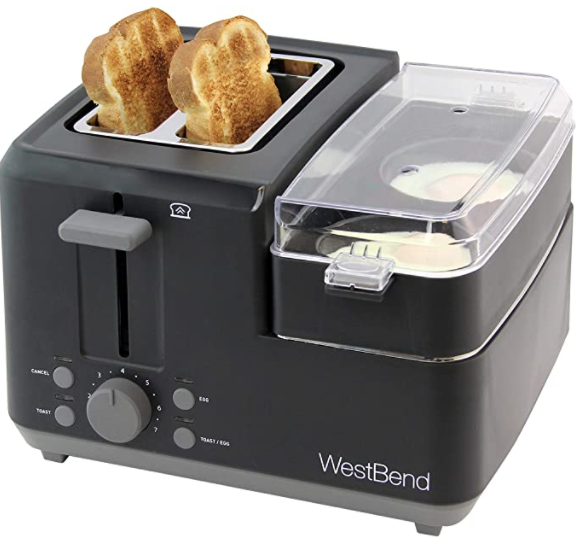 This machine can cook up to 8 eggs at once and includes two poaching trays and a basket for either soft or hard eggs.
However, in addition to toasting two slices of bread, it can also brown two halves of an English muffin, a bagel, a bun, or even a croissant! In addition, the toaster unit can be set to different settings, allowing you to choose how your bread is toasted.
It also comes with a warming tray for vegetables and meat. This can be used for precooked meals, pineapples, or tomato slices for egg sandwiches or toast.
It has a modern look with a sleek black surface, making this model look virtually great in any kitchen. This is also super easy to keep and clean.
Pros:
Variety of settings
Customizable options
Multiple cooking settings
Cons:
Does not provide value for money
The iGuardstove is a unique smart tool for your kitchen. This stove has a motion sensor and timer combination. Together, it provides peace of mind knowing that the stove will not be left running unattended.
There are two components to the iGuard stove. There's a panel and the power box that hides underneath the stove out of sight. Once installed and connected to the home's wireless network. You are done and ready to go!
Pros:
Motion sensor controlled
Realtime monitoring
Remote lockout
Manual timer settings
Cons:
Wrap up
This is a lot to process, and we understand that. However, the kitchen is the heart of the home. The key factor is to decide what will save money and time while looking aesthetically pleasing. We hope you make the right choices for the smart kitchen you deserve.