There is no harm in combining cooking with technology. Smart kitchen gadgets make your cooking more perfect, hassle-free, and fun. Following a recipe is no longer a complication. You can use smart kitchen technology to speed up your cooking process.
You can automate some of the techniques so that you can enjoy cooking and feast with your family every day.
Read on to explore some of the smart kitchen appliances available under $230, and pick yours today.
Smart Kitchen Appliances Under $230 Reviewed
Introducing the Cosori smart air fryer toaster oven. Why is it smart? Because it has 12 cooking functions so you can cook anything for anyone.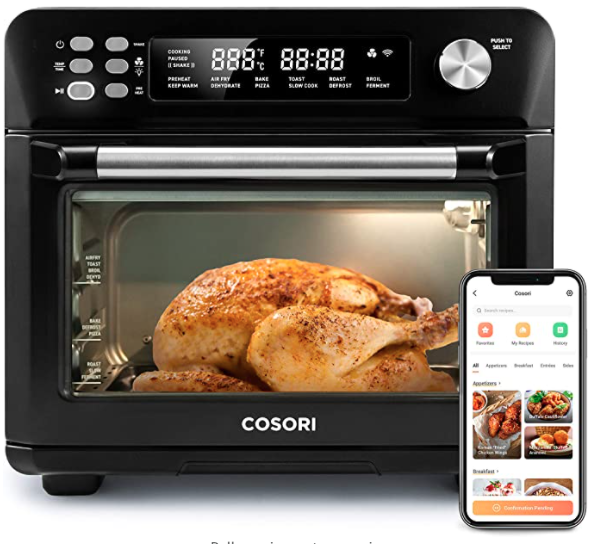 And, the cooking can be monitored with the VeSync app, which can be connected to Amazon Alexa and Google Assist. So, pre-heat, cook, and keep warm surely the traits of a smart cooking appliance.
It comes with a wire rack, a fryer basket, and a food tray. It has a large capacity of 26-quart / 25L as the cooking area. And the accessories let you play around with different cooking techniques and flavors.
Pros
Easy to use.
Easy to clean.
Multifunctional.
Free accessories.
Cons
If you are into a healthy, low-carb diet, then this cooker will make things effortless. It has 8 Pre-programmed settings. So, you cannot just cook different types of rice but try amazing recipes as well.
The smart led display lets you set cooking preferences easily, and the removable inners make it easier to clean. The induction heating method lets you keep the good starch and get rid of the unhealthy one. And, the delay timer programming guarantees warm and fresh cooked food all the time.
Pros
Stainless-steel interior.
LED display.
1-year manufacturer's warranty.
Cons
Cusimax Raclette Grill Electric Grill Table
Cook or grill, or just warm, and eat. Smart yet simple – the Cusimax Raclette Electric Grill easily serves up to 8 persons. The electric grill lets you enjoy indoor and outdoor grilling.
It has a reversible baking tray that is non-stick coated. You can use the flat cooking surface or reverse it to use the other side for grilling.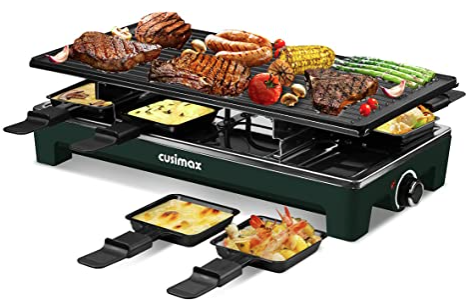 The adjustable heating lets you cook or keep the food warm. In addition, the 8 non-stick Raclette trays give extra options and space to cook or warm additional delicacies. It also resembles a Korean BBQ set up so you can enjoy that.
Pros
Free lifetime customer service.
Flat cooking surface for even cooking.
180-days worry-free return policy.
Cons
Now you can cook and enjoy healthy food with convenience – The Buydeem electric food steamer lets you do so. Two modes of cooking, steam, and slow-cook, enable you to relish several recipes.
In addition, you can set various steamer timings according to the ingredients and the portions. The one-touch system is easy to use and also offers pre-programming options.
The water bath has a wide indicator, so you can easily track and refill when needed. The advanced technology either alerts when the water level is low or completely turns it off to avoid burning the steamer. Cook worry-free with this incredible digital multifunctional steamer.
Pros
Food grade material – FDA Approved.
Compact Design.
Lightweight.
Wide steam area.
Cons
Parts replacement is difficult.
Not 1, not 2 but 29 possibilities. Yes! 28 Automatic programs with recipes and one cycle for the customizable one. Bake as much bread as you want and that too of any type.
Just add in the ingredients, a few clicks, and decide your loaf size, crust color, and so many more options. Then, it kneads the dough, rests for it to rise, and bakes it to perfection.
The matte finish housing, lid, and baking chamber make it all the more durable and cost-effective. So, bake your bread with ease and fun.
Pros
Discounted original replacement parts are available on Amazon.
2-YEAR Product Warranty.
Lifetime Free Customer Service.
Cons
Ninja NC301 Creami
So now it's time for some ice cream. Enjoy it as a dessert or beat the heat along with sorbets, milkshakes, or smoothies. 7 one-touch programs allow many different creamy treats preparation.
Adjust the speed, pressure, and time to prepare ice creams, gelatos, and other cool, creamy recipes. In addition, 3 dishwasher-safe pints with lids let you enjoy customized treats. This ice cream maker can churn and blend any of your choice ingredients into smooth or chunky cold delights.
Pros
Containers, lids, and paddles are dishwasher safe.
30 recipes guide included.
Automated programs.
Cons
Following the instructions is necessary to avoid damage to the appliance.
Cosori Premium Food Dehydrator
If you are a fan of drying your food like fruits or preserving herbs and flowers, this food dehydrator is your best choice. The food-grade stainless steel interior and the front glass door make it safe and easy to use.
The digital control panel can let you set timings for up to 48 hours with the least noise. In addition, the overheat protection activates on its own, making it reliable and a worry-free tool even when being used for long hours.
Pros
Specialized fan for even heating.
Overheat protection.
Customizable timer.
Cons
Make non-dairy, vegan milk at home with ChefWave Milk made. Allows you to have customizable milk flavors with 6 preset milk-making programs, all on digital touch control.
Fast and reliable – make milk under 20 mins and that too conveniently and hygienically. Comes with a glass container to collect the milk and no hassle of cleaning as it is programmed to self-clean.
Pros
1-year limited warranty
ETL Certified Product
Self-cleaning
Cons
Wrap up
Bringing technology into your everyday cooking to cook smartly and efficiently. Don't compromise on flavors, and don't be afraid to apply different techniques just because you are a home cook.
Smart kitchen appliances give you more free time to do other great things during the day than worry about your meals. Serve healthy and delicious food every single time.