Having an outdoor space to unwind, relax and host cookouts is quite common. But it is not everyone's forte because of the inconvenience people face. It can be in any form, but there is always a way around it. Introducing some of the best outdoor kitchen accessories lets, you enjoy outdoor adventures.
Best Outdoor Kitchen Accessories reviewed.
This is a perfect food prep for BBQ or a food serving table. It can also be used as a work cart table in the kitchen or outside when finishing your lunch or dinner. It features a stainless steel top that has been finished with scratch-resistant coating. This makes it easy to clean, giving a smooth hand touch. Two large wheels allow the table to roll along easily. The other two ends are horseshoe feet to keep the whole structure stable.
The top counter and the shelves are spacious, around 21 inches wide. The second shelf has holes for draining water and slight fencing to avoid any slips of plates or cutlery. The bottom bracket can be used to carry condiments or so.
Some hooks are provided to accommodate more tools and a rack to hang your kitchen paper towel. You can easily mount a gas tank for your cookouts, BBQs and Grilling. A bottle opener is also attached to have a smooth party without worrying about the equipment. It is a complete all-in-one cart to help you cook, serve, and clean.
Pros:
Easy to install.
Multifunctional.
Easy to clean.
Durable.
Easy to maneuver.
Cons:
This is a premium quality grill utensil carry caddy unlike any other. It features a sleek design that will look great at your grill party, while the heavy-duty construction ensures years of use. The four main compartments make carrying easy and convenient. The extra large slots hold spatulas, tongs, and much more. Underneath, there are two smaller containers for storing additional utensils or spices. You can take all your grilling tools with you on your next BBQ or cookout without the hassle of bringing bundles of utensils. Every time means less chance of losing or mixing up any of your tools.
Pros:
Large capacity.
Easy to carry.
Heavy-duty design.
Value for money.
Cons:
Grillbot is an innovative, automatic grill brush that can clean any grill in less than four minutes. It's the only grill brush that cleans all types of grills and oven tops. Its patented design makes it 100% safe for use on gas or charcoal grills.
It has a nylon bristle brush compatible with porcelain, steel, and cast iron grates. There are also brushes available for brass and stainless steel grates. The brushes pop right off for easy cleaning and are dishwasher-safe.
Grillbot comes equipped with a rechargeable battery that lasts several days before needing to be recharged. It has three high-power electric motors and an intelligent computer brain that will notify you when finished. You can set the timer to do its job while you relax. The LCD and the alarm timer lets you know the settings and the duration.
Pros:
Efficient.
Automated.
Compatible.
Versatile.
Cons:
Works on round grills only.
This handy portable kitchen cart will take your outdoor entertaining to the next level. This weather-resistant, resin, and stainless-steel unit offer a spacious worktop. You can use it to place your grills or prepare food and drinks. It has two large wheels that make it easy to move from place to place. Four hooks for hanging utensils provide ample space on the counter. And the spacious counter can, in turn, be used to adjust a grill pan or two. The sealed storage space can protect your things from rain or sunlight.
With its simple design, this patio cart will fit nicely into any outdoor space for various purposes. This indoor-outdoor storage cabinet has been crafted from superior materials for durability.
Pros:
Durable stainless steel surface.
28 gallons of sealed storage space.
Wheels for portability.
Adjustable legs for uneven surfaces.
Cons:
No assembly instructions are provided.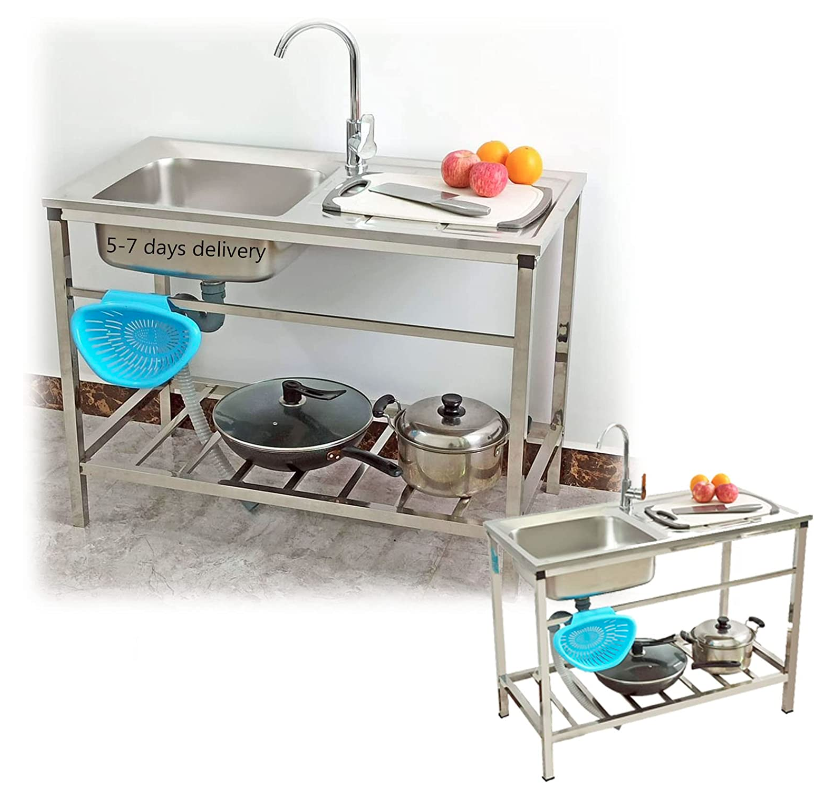 This single-bowl, free-standing commercial sink with a faucet provides all kitchen facilities. It makes your dining environment more accessible, and you can have full kitchen benefits within this single setup. A hand basin, big drains, and storage shelves can ensure the kitchen's efficiency.
It is stainless steel constructed, which makes it easy to clean and extremely durable. It is rust-proof and corrosion-resistant. This makes it highly valuable as commercial kitchen equipment. The sound insulation pad can help make it a quiet time at the sink. The double shelves are great for storing cleaning equipment and accessories. It can be easily installed and carried anywhere.
Pros:
Easy to assemble.
Lightweight.
Compact.
Cons:
This stand with storage is a multifunctional piece of furniture that can be used in any part of the home. It combines a strong iron frame with premium particleboard and metal mesh for an extended use span. The practical baker's rack includes a built-in power strip with two power outlets and an air switch. There is charging convenience for multiple kitchen appliances. The switch is convenient and safe to turn off the power when not in use.
The black finish blends well with most decors, and the wooden texture is a pleasant sight. The particleboard has a waterproof coat so that you can carry out your kitchen chores on it quickly. The mesh shelves provide extra storage space for lighter items. The hooks are suitable for hanging mugs or kitchen tools. It will easily stand out and be most efficient in the kitchen, living room, or study.
Pros:
Adjustable feet pads
Waterproof surface
Multiple shelves
Cons:
No borders to prevent things from sliding off.
Conclusion
The above-listed best outdoor kitchen accessories provide enhanced convenience. They are portable, easy to handle, and easy to store. Moreover, they make your outdoor experiences more subtle and smooth. Try out the equipment and pair them with your next BBQ feast to impress your guests and make your life easier.