When cooking food, you want your kitchen to be adequately organized, allowing easy access to all your utensils, cooking tools, spice jars, and more! Not sure how to organize your kitchen?
Dive in to have a look at the smart home kitchen ideas. 
Smart Organizing Kitchen Ideas:
Have a look at two of the best smart organizing kitchen ideas that lead to minimal clutter with enough cooking space!
For all those bakers who have to access all the tablespoons, scoops, measuring cups at once, no more hassle of digging into a drawer. Invest in the dividers to organize the drawer based on your usage and give every baking tool a specific space. Apart from setting the baking tools using dividers, you can also set your cutlery in the finest spaces without causing any clutter.
Another stunning space-saving kitchen idea is to mount the double-duty shelf. These shelves are smart for organizing the kitchen. You can save the upper deck for storing your pretty dishes or seasonal platters, while you can use lower hooks for oven mitts or cutting boards that you use every day.
Product Reviews:
Smart Design Premium Cabinet Storage Shelf Rack:
Are you seeking a smart kitchen product that keeps your cabinet clean and neat with easy access to spice jars? Set this steel metallic shelf rack in your pantry, over the country, cupboards, or more for keeping your spice jars organized. 
This shelf rack comes in a set of 6 in one pack, which means you get to organize the entire counter or your pantry.
This smart design shelf rack is rust-resistant and comes in a sturdy design.
Pros:
Durable.
Rust-resistant.
Spacious.
Smart design.
Cons:
If you seek to organize your pots and pans efficiently, then this pot organizer rack is a perfect choice. What you'll love about this pot organizer rack is that it's made from aluminum, and it's 100% rustproof.
That's not all! This pot organizer rack comes with six adjustable compartments for holding the pots, pans, and lids.
Here's more! You can place this organizer over your kitchen counter or the cupboard. So, get your hands on this organizer now for a space-saving effect!
Pros:
Rust-proof.
Great design.
Works well for limited space.
Stable.
Easy to install.
Cons:
Dividers don't stay in their place.
If your fridge has limited space and you seek a fridge bin or freezer bin organizer, this product is a smart investment. What makes this smart organizer ideal is that its BPA-free which means it's great! 
The stackable storage containers are ideal for storing your fruits, veggies, drinks, sauces, eggs, and more! If your fridge seems ugly and is small, transform it now with this mind-blowing organizer!
Pros:
Fits well in the fridge.
Strong enough.
Keep your fridge properly organized.
Easy to pull out.
Comes in high-quality.
Cons:
This set is a combination of 4 large plus 4 medium organizers having handles. They are a perfect organizer for your kitchen, freezer, pantry, cabinet, and more. Plus, these organizers are BPA-free making them 100% food-safe designed for long-lasting.
The organizer bins offer enough space to allocate the commodities for better fridge organization. This durable organizer stores the meat, milk, bottles, canned food, fruits, and veggies clean, spill-free.
These stackable bins are easy to stack or can be placed for side-by-side use. They have handles with a non-slip base giving a transparent view. The best part about this organizer is that you can use it for storing dry foods too. It is an ideal choice for pantry shelves, countertops, cabinets, kitchens, and more!
Pros:
Durable.
Clear
Stackable.
Comes with built-in handles.
Versatile.
Cons:
Airtight Food Storage Container Set:
For all those seeking a pantry organization set, they should opt for this one! It comprises a 24-piece set with plastic canisters having durable slides making it ideal for flour, sugar, and cereal. Plus, it comes with a spoon, markers, and labels.
Tidy up your pantry with the storage canisters, write down the labels with the chalkboard market and add a measuring spoon to each one of them.
No worries about space as there are 6 extra-large containers, 6 large, 6 medium, and 6 small-sized containers. You can store all your essentials ranging from coffee, tea, sugar, snacks, leftovers, and much more, keeping them fresh and crispy!
That's not all! These containers come with four-sided lock lids preventing your kitchen from messing up.
Overall, these life-saver smart kitchen organizers are durable with a perfect bang for your kitchen!
Pros:
Long-term storage.
Saves time, money, and space.
Durable.
Sturdy.
Seals nicely.
Cons:
Comes with odd dimensions.
Next in our list of smart home kitchen organizers is the set of four airtight containers, which comprises four measuring cups with labels. This set of four canisters is ideal for flour, sugar, snacks, and much more!
Keep your pantry well-organized, having built-in handles for meeting the storage needs. These containers are BPA-free with SAN & ABA clear containers making them easy to locate. Plus, they come with measuring cups for pet food, coffee, grains, and more!
Fall in love with this kitchen organizer having a modular design and dishwasher-safe containers having tight lids. The secure lids protect the food against air or water, keeping your food fresh and crisp!
Maximize your small pantry space with these marked containers and store your dry food items!
Pros:
Airtight/ Watertight.
Leakproof.
Dishwasher Safe.
Stackable design.
Sealing lids.
BPA free.
Cons:
This last smart organizing kitchen product is a perfect investment for organizing the pantry. It comes with cereal containers with 8 labels, BPA-free dispensers with air-tight seals. This set comes with a pen and spoon set, making it a great storage choice for flour, sugar, snacks, cereals, and much more.
What you'll love about these cereal containers is, you can easily store your favorite cereals safely. No more mess and space consumption as you can easily fit your cereals in these airtight containers.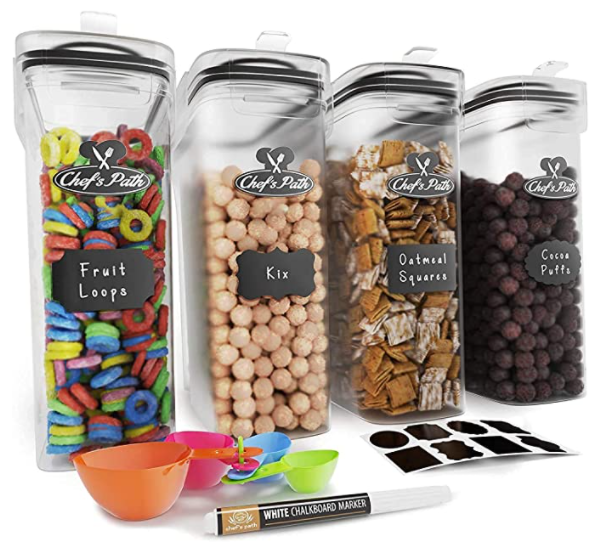 Pros:
Airtight.
Locking seal.
Comes with BPA-free material.
Offers easy storage.
Convenient to use.
Cons:
The lid is not easy to clean.
Conclusion:
No matter what kitchen size you have, you need smart products to keep your kitchen organized at all times! So, maximize the minimal space and narrow drawer spaces in your kitchen with these smart kitchen products mentioned above to get a sleek, organized kitchen!